"With over 128 million streams on Pandora, Adams is proving to be something of a substantial artist".      SOUND MIND
Welcome. I compose music in a number of areas and have organized the genres to 
MUSIC for my varied eclectic work (Acoustic, electronic, world etc)
MEDITATIVE MUSIC  for the gentle, spacial ambient work and 
PD ADAMS for my singer/songwriter stuff. It took me years to face my shyness about the lyric stuff. Funny, I now feel it's my strongest work. The album is called THIS CURIOUS WONDER and is a somewhat acoustic existential outing with poetry and photo's.
"...a collection of songs full of "amazing wonder" that any conscious human will appreciate."    AMERICANA RHYTHM MUSIC MAGAZINE Nashville.      
"PD Adams new album This Curious Wonder is newly released and wholly beautiful ! Channeling a stillness that honors true teachers like Thich Nhat Hanh, this is a deeply lovable album." Elice Cady AMERICANAHIGHWAYS Nashville
Many thanks to Elizabeth Geyer in Australia for vocals, Andy Hatfield on imaginative mandolin and Bradley Harper all the way over in England for steel guitar (I found him on Instagram).
I also dabble in writing, poetry, photography, mental health issues and have built musical instruments for such people as Daryl Hall, members of Stevie Wonders band and others. I enjoy working on various activities within the human condition (Listed under "Arty Stuff"). It's a big mystery down here isn't it?  I hope you have fun wondering the site. Listen to music, read and interact if you wish. Have fun.
My most recent collaborations have been with the talented Australian musician Elizabeth Geyer (See SANCTUARY below). She is an enormous talent!! Check her out. I also have THE NEURONS, a sideline group with my friend David Hoffman who spent many years playing and arranging for Ray Charles. He has his own music as well - check him out. I feel very lucky. Because of Satellite Radio like Sirius, Echo's, Music Choice and Pandora, as well as the wonderful Terrestrial and Public stations around the world, I connect with YOU and make a living. How beautiful is that?
______________________________________________________________________________________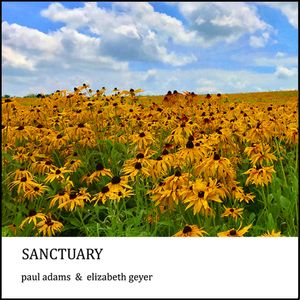 SANCTUARY  #1 in Europe summer 2022. Click to see Sanctuary on the Meditation music page
RELEASED 7/1/22 !!   SANCTUARY CHARTS #1 IN EUROPE
"In my view this has to be one of the best New Age music releases I have heard for many years… an award winning album of true majesty…. and a multi-instrumental delight!"  Steve Sheppard One World Music UK
Sanctuary is both a powerful grounding meditation soundtrack while equally artistically rich. Adam's sultry electric sitar and other worldly touches and Geyer's distinctive jazz sensibilities on piano and vocal make Sanctuary both indulgence for the soul and a perfect healing backdrop for these troubled times.
Elizabeth Geyer and I really want this to be a real SANCTUARY for all of you. The physical CD also contains extra poetry in the 6 page cover and extra 4 page insert. HERE ARE THREE VIDEO'S for the album.. SANCTUARY    AN EVENING'S CARESS    GRACEFUL WATERS
PANDORA PLAYLIST                                     SANCTUARY charts #1 in Europe