THIS CHRISTMAS
5 1/2 Million streams on Spotify!! This Christmas is a masterpiece of Traditional holiday songs in a mellow and ethereal setting. FOUR STARS Peoria Journal Star.  An acoustic celebration rich in beauty and spirit accompanied by Paul's photo's taken during the huge snowstorm of 2007
______________________________________________________________________________________

I am also grateful to Pandora and all of you for bringing my "streaming" listens to over 118 million. THANKS SO VER VERY MUCH !!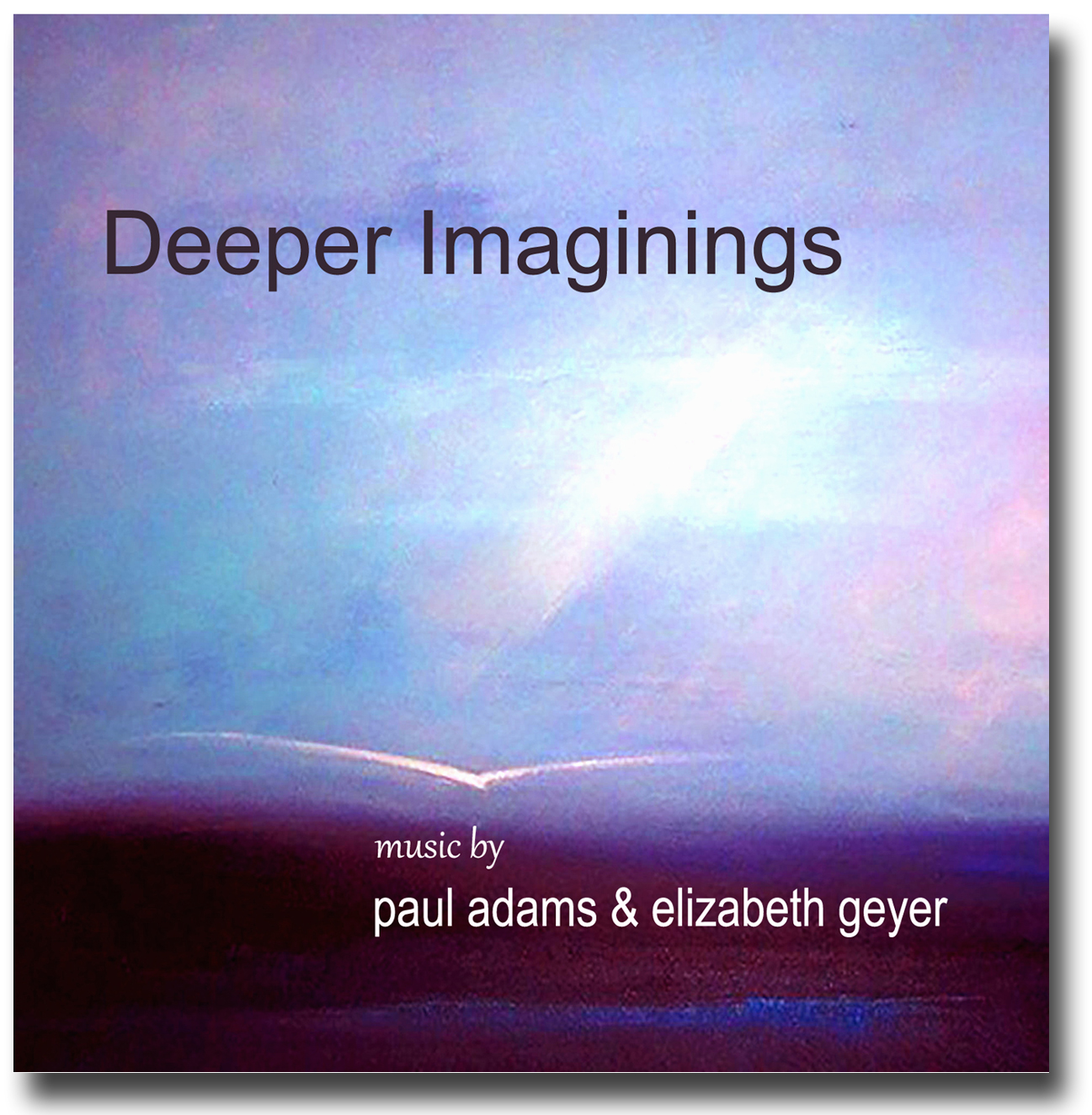 ANNOUNCING THE RELEASE OF DEEPER IMAGININGS the follow up of 2015's  IMAGININGS, Cont. Instrumental album of the year!!! 
March 2020.... Deeper Imaginings nominated the best New Age album of the year at the Independent Music Awards!.
"Deeper Imaginings" is the highly anticipated follow-up to Paul Adams and Elizabeth Geyer's 2015 ZMR Contemporary Album of the Year winner "Imaginings". It is always hard to replicate an album that has become a modern classic – but Adams and Geyer might have done just that."  BT Fasmer  NEW AGE MUSIC GUIDE
"Exciting experiential musical excursions....  I give Paul, Elizabeth and their players a MOST HIGHLY RECOMMENDED rating, with an "EQ" (energy quotient) score of a perfect 5.00… this means, of course, that they also get my "PICK" for  most enchanting album".  
DICK METCALF  Contemporary Fusion Magazine
"On this meditative mélange of musical poetry there was harmony, there was balance, and there was unity in every tune. Highly recommended."  – R J Lannan, Artisan Music Reviews
"The combination of instruments is quite fascinating and different than your typical new age release because of the jazz element injected by Elizabeth Geyer's Flugelhorn. Then her piano also helps that taste of jazz and in retrospect gives each track an entirely different musical window to look through. But then again, every instrument that is included adds another dimension, layer, and or texture making it all a very unique and symbol of the diversity of talent..."  NEW AGE MUSIC REVIEWS
Paul and Elizabeth interview on Aural Awakenings with Candice Michelle    
_________________________________________________________________________________________
"With over 117 million streams on Pandora, Adams is proving to be something of a substantial artist".      
SOUND MIND
Welcome. I compose music in a number of genres, so I have organized the music section to MUSIC  for my varied eclectic work and MEDITATIVE MUSIC  for the gentle, spacial, and environmental ambient work. Hope it reduces confusion.
IMAGININGS which was selected best contemporary Instrumental album of 2015 is having a follow up called DEEPER IMAGININGS in November of 2019. I've released a single from it called "Essence & Flow" and has already been streamed 50,000 times on Spotify (See video at of page). My eclectic music runs in genres such as Finger style Guitar, World Fusion, New Age, and Jazz. My most recent collaborations have been with the talented Australian musician Elizabeth Geyer. She is an enormous talent!! I also have THE NEURONS, a sideline group with my friend David Hoffman who spent many years playing and arranging for Ray Charles. He has his own music as well - check him out. I feel very lucky. Because of Satellite Radio like Sirius, Echo's, Music Choice and Pandora, as well as the wonderful Terrestrial and Public stations around the world, I connect with YOU and make a living. How beautiful is that?
I also dabble in writing, photography, have built musical instruments for such people as Daryl Hall, members of Stevie Wonders band and others. I enjoy working on various activities within the human condition (Listed under "Arty Stuff"). It's a big mystery down here isn't it?  I hope you have fun playing on the site. Listen to music, read and interact if you wish. Have fun