______________________________________________________________________________________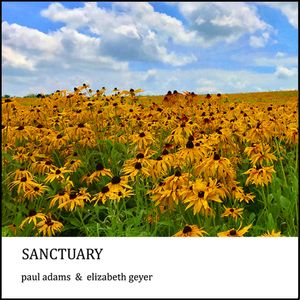 SANCTUARY click to see Sanctuary on the Meditation music page
RELEASED 7/1/22 !!   SANCTUARY CHARTS #1 IN EUROPE
"In my view this has to be one of the best New Age music releases I have heard for many years… an award winning album of true majesty…. and a multi-instrumental delight!"  Steve Sheppard One World Music UK
Music is an incredible medium; it can excite, confront, take us to the edge; equally other music can nurture, comfort and heal. Sanctuary is both a powerful grounding meditation soundtrack while equally artistically rich. Adam's sultry electric sitar and other worldly touches and Geyer's distinctive jazz sensibilities on piano and vocal make Sanctuary both indulgence for the soul and a perfect healing backdrop for these troubled times.
I don't often listen to my own work, but this album always seems fresh and beautiful. Elizabeth Geyer and I really want this to be a real SANCTUARY for all of you. The physical CD also contains extra poetry in the 6 page cover and extra 4 page insert. HERE ARE THREE VIDEO'S for the album.. SANCTUARY    AN EVENING'S CARESS    GRACEFUL WATERS
PANDORA PLAYLIST                                     SANCTUARY charts #1 in Europe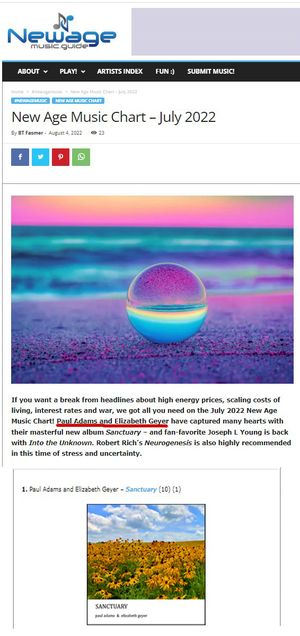 _________________________________________________________________________________________ 
"With over 118 million streams on Pandora, Adams is proving to be something of a substantial artist".      
SOUND MIND
Welcome. I compose music in a number of genres, so I have organized the music section to MUSIC  for my varied eclectic work and MEDITATIVE MUSIC  for the gentle, spacial, and environmental ambient work. Hope it reduces confusion.
IMAGININGS which was selected best contemporary Instrumental album of 2015 is having a follow up called DEEPER IMAGININGS in November of 2019. I've released a single from it called "Essence & Flow" and has already been streamed 50,000 times on Spotify (See video at of page). My eclectic music runs in genres such as Finger style Guitar, World Fusion, New Age, and Jazz. My most recent collaborations have been with the talented Australian musician Elizabeth Geyer. She is an enormous talent!! I also have THE NEURONS, a sideline group with my friend David Hoffman who spent many years playing and arranging for Ray Charles. He has his own music as well - check him out. I feel very lucky. Because of Satellite Radio like Sirius, Echo's, Music Choice and Pandora, as well as the wonderful Terrestrial and Public stations around the world, I connect with YOU and make a living. How beautiful is that?
I also dabble in writing, photography, have built musical instruments for such people as Daryl Hall, members of Stevie Wonders band and others. I enjoy working on various activities within the human condition (Listed under "Arty Stuff"). It's a big mystery down here isn't it?  I hope you have fun playing on the site. Listen to music, read and interact if you wish. Have fun