______________________________________________________________________________________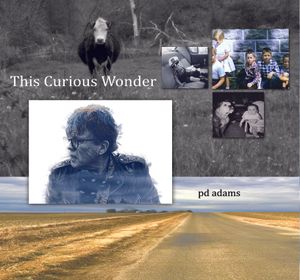 TO BE RELEASED 4/7/22 !!!!
"An album beautifully gritty, lyrical and poetic. A deeply American look at our involvement in the world around us."
"PD Adams (aka Paul Adams) has a new album This Curious Wonder is newly released and wholly beautiful ! Channeling a stillness that honors true teachers like Thich Nhat Hanh, this is a deeply lovable album !"  Elise Cady  AMERICANA HIGHWAYS Magazine Nashville
"This is an Excellent album. I really enjoyed hearing it !!   NORBERT PUTNAM  bassist Elvis Presley, Producer Jimmy Buffet, Joan Baez, Dan Fogelberg, Nitty Gritty Dirt Band
Please see the PD Adams page here to learn about a project that has been in the wings for 35 years. Yes, it is completely different work from my previous (That's why I used a name variation). Now and then we need to paint outside our wheelhouse and risk. Take the journey with me !
I love composing the new age and world music, but I've always known I was also an old fashioned singer/songwriter as well. To keep from confusing fans and digital algorhythms, I'm releasing this under the name PD Adams. Anyway, I've finally finished THIS CURIOUS WONDER and I feel as if I have faced this mysteriously wonderful world (That can also be quite difficult at times) and poetically expressed those existential questions and conclusions that have been gifted to me from that magical place of wonder and awe. I am deeply grateful for having done this. Frankly, fear was my main barrier. It seems to have vanished. When I was a tiny fella, my neighbor Mrs Barton told me I should be a singer & lyricist. Took me awhile.  Again...grateful.
It is a different painting from my previous work and I hope it touches you as it's touched me. Elizabeth Geyer added direction and vocals and co composed the track SONGBIRD (With added piano). National Flatpicking champion Andy Hatfield added some incredibally creative mandolin. I met Bradley Harper (From the UK) on instagram who was looking for recording work. Not knowing him in the least, I gambled and sent him tracks and he mailed back steel guitar that was absolutely perfect. Sometimes It's good to risk! Of course David Hoffman provided a bit of trumpet on the song SPARK and really gave it excitement. Head over to the PD Adams page and listen. Also there is artwork and bonus art and poetry. Upon release date of 4/7/22 it will be available on all digital platforms. I hope you will search it out on social media and all the digital platforms like Spotify, Amazon, Apple, Pandora etc
_________________________________________________________________________________________
"With over 118 million streams on Pandora, Adams is proving to be something of a substantial artist".      
SOUND MIND
Welcome. I compose music in a number of genres, so I have organized the music section to MUSIC  for my varied eclectic work and MEDITATIVE MUSIC  for the gentle, spacial, and environmental ambient work. Hope it reduces confusion.
IMAGININGS which was selected best contemporary Instrumental album of 2015 is having a follow up called DEEPER IMAGININGS in November of 2019. I've released a single from it called "Essence & Flow" and has already been streamed 50,000 times on Spotify (See video at of page). My eclectic music runs in genres such as Finger style Guitar, World Fusion, New Age, and Jazz. My most recent collaborations have been with the talented Australian musician Elizabeth Geyer. She is an enormous talent!! I also have THE NEURONS, a sideline group with my friend David Hoffman who spent many years playing and arranging for Ray Charles. He has his own music as well - check him out. I feel very lucky. Because of Satellite Radio like Sirius, Echo's, Music Choice and Pandora, as well as the wonderful Terrestrial and Public stations around the world, I connect with YOU and make a living. How beautiful is that?
I also dabble in writing, photography, have built musical instruments for such people as Daryl Hall, members of Stevie Wonders band and others. I enjoy working on various activities within the human condition (Listed under "Arty Stuff"). It's a big mystery down here isn't it?  I hope you have fun playing on the site. Listen to music, read and interact if you wish. Have fun